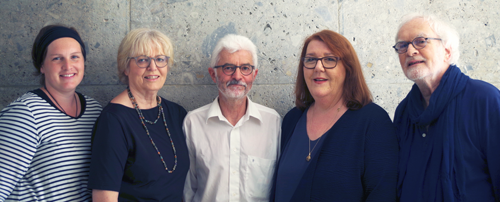 Dear partners of GKM,
in our opinion, the basis for a good and long-term cooperation is trust and continuity. Since GKM's foundation in 1981, these values, together with a growing number of motivated employees, enabled us, Siegfried K. Hippe and Renate E. Hippe, to develop the company into an internationally operating CRO.
We are particularly pleased that also our daughter, Sonja M. Graß, will overtake an active part at GKM. In December 2017 she became co-owner of the company and of now will be actively working as Manager Personnel Support and Development, making GKM a family-owned, cross-generational business.
At the end of 2017, we withdrew from operational management and, together with Dr. Dieter Schremmer, formed an advisory board, which accompanies the destination of GKM in an advisory capacity. Dr. Dieter Schremmer has been the Head of Biostatistics and Deputy Managing Director for 27 years. His leadership skills and his pronounced innovative drive crucially contributed to the positive development of GKM.
In January 2018, the company's general management was taken over by Dr. Karin Dürrstein. She has been working at our company for over 20 years, last in the position of Chief Operations Officer since 2014. Her outstanding professional competence and loyalty had a significant effect on GKM. Supported by Brigitte Wöhrmüller (Head of Finance), Dr. Christian Hautmann (Head of Business Development) and Rupert Lang (Corporate Operations Manager), the new management is well prepared to lead GKM successfully also in the future.
We sincerely thank you for the trust you have placed in GKM and we are looking forward to a continual, successful collaboration!
Renate E. and Siegfried K. Hippe